Fake Attention!Direct your music against bad governance, not Yahoo boys – Samklef tells Simi
Music producer, Samklef has advised Simi and other Nigerian musicians to stop harassing Yahoo boys and should direct their music against bad governance by politicians who have failed the country.
His post is coming few days after singer Simi advised Yahoo boys to stop buying their songs. According to her, their fraudulent activities is making Nigeria a laughing stock abroad. Her post was seconded by rapper M.I.
Reacting to the call out on Yahoo boys, Samklef shared the below quote and screenshot.
'I'm not supporting fraud but is that the only problem we have. Nigerian artists won't talk about bad governance, killing of innocent lives. If the system was ok, all these won't be happening. Fake attention'.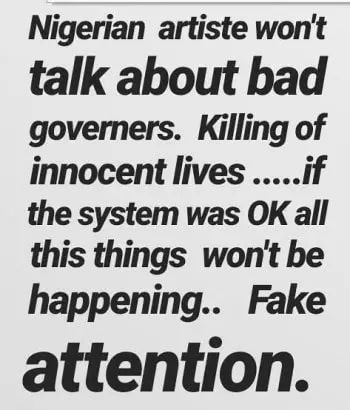 Adele dating grime star Skepta after split from husband
Adele has reportedly enjoyed a string of dates with grime star Skepta
The hello singer splits from her husband Simon Konecki back in April.
Fresh from her heartbreak, Adele, 31, is said to have found romance with fellow Tottenham native Skepta, 37.
Sources claim the pair enjoyed a night at the Crystal Maze experience in London two weeks ago for the shutdown singer's birthday. The insider told The Sun: "Adele and Skepta have been there for each other a lot after both their relationships split up.
"They have a close bond and there's definitely a special connection.
"They're spending more and more time together. Some of their friends are hoping and predicting they could end up being a great couple one day." The pair have spoken fondly of each other in the press and made clear their mutual appreciation on social media.
Speaking of ES Magazine in 2016, Skepta said "Adele texts me all time and keeps me in check. She speaks to me about how things are going."  The same year Adele shares a picture of Skepta- real name Joseph Junior Adenuga Jr- to her official Instagram account. "Tottenaham Boy," she wrote, followed by a heart emoji.
Recalling the incident to IBTime UK, Skepta later said: "She gassed me up. One day I was just chilling and she (tweeted) a picture that said 'Tottenham boy' and she's from Tottenham as well. "I was actually going to quit music that day that was one of the sickest things ever. She's like the lady of Tottenham."
Kim Kardashian West Swaps Her Vintage Wares For a Cool Emerging Label
For the past few months, Kim Kardashian West has proven herself to be a die-hard lover of vintage fashion, stepping out in archival pieces by Thierry Mugler, Azzedine Alaïa, Versace, and Jean Paul Gaultier, with the latter's slinky, tattoo-style pieces proving a particular favorite. Kardashian West's obsession with scouring these throwback collections—and then finding items within them that still feel fresh and new—is trickier than it seems; her next-level eye has even made Vogue's own resident eBay queen, Liana Satenstein, second guess her talent for finding those precious gems. But now, the star is giving all that up in favor of an achingly cool emerging label.
Stepping out yesterday in Los Angeles, California, Kardashian West was spotted in a custom outfit by the German brand Ottolinger. Since the brand's designers Christa Bösch and Cosima Gadient, who are Swiss but based in Berlin, launched the line in 2015, they have developed a modern, sci-fi inspired aesthetic that combines body-conscious silhouettes with more technical fabrics; their recent Fall 2019 collection even featured riffs on ski wear. Kardashian West chose to mimic that sporty feel with a skin-tight tracksuit, detailed with subtle roping. Meanwhile, fitted boots gave it a head-to-toe finish.
So, does this switch-up officially end Kardashian West's retro kick? Will she now return to the futuristic athleisure vibe that was once her signature? Judging by this ensemble, the answer is yes—and she's chosen the perfect on-the-pulse design duo to nail the transition.
-vogue